New technologies and practices are changing the way companies recruit talent, and it's all happening at lightning speed.
Traditional job interviews leave something to be desired. Relying on hiring managers to handle them without injecting some level of personal bias is fraught with risk, and the fact that many busy managers would rather not spend time interviewing candidates in the first place only compounds the problem.
Enter the Tengai HR robot. This 16-inch-tall robotic device gets right to the task without stopping to engage in small talk with each applicant. The robot asks critical questions succinctly with no emotion, no bias and no preconceived notions. Every question is asked in the same order, with no change in voice inflection or tone. Once each interview is over, the hiring manager and HR department have a complete transcript of the conversation, along with identical datasets for all candidates that can be used to determine which applicant is the best fit.
Science fiction? No way. Technology developers are leveraging artificial intelligence (AI) to flip the job interview process on its head, and companies are already adopting robotics to help take bias out of recruiting.
Released in May, the Tengai HR robot is an "unbiased social job interview robot that performs structured, competency-based interviews with anonymous candidates, focusing on soft skills and personality traits," says Elin Oberg Martenzon, chief executive officer at Sweden-based Tengai Unbiased.
The Tengai robot enables employers to make hiring decisions based on facts, not gut feeling, she says. "Every job applicant gets fair treatment, and their application and interview process is not affected by unconscious bias or the recruiter's mood that day. Applicants also get to prove their soft skills and personality traits in an objective environment where they can feel calm and secure—which, from research, has shown to bring higher quality to the outcome."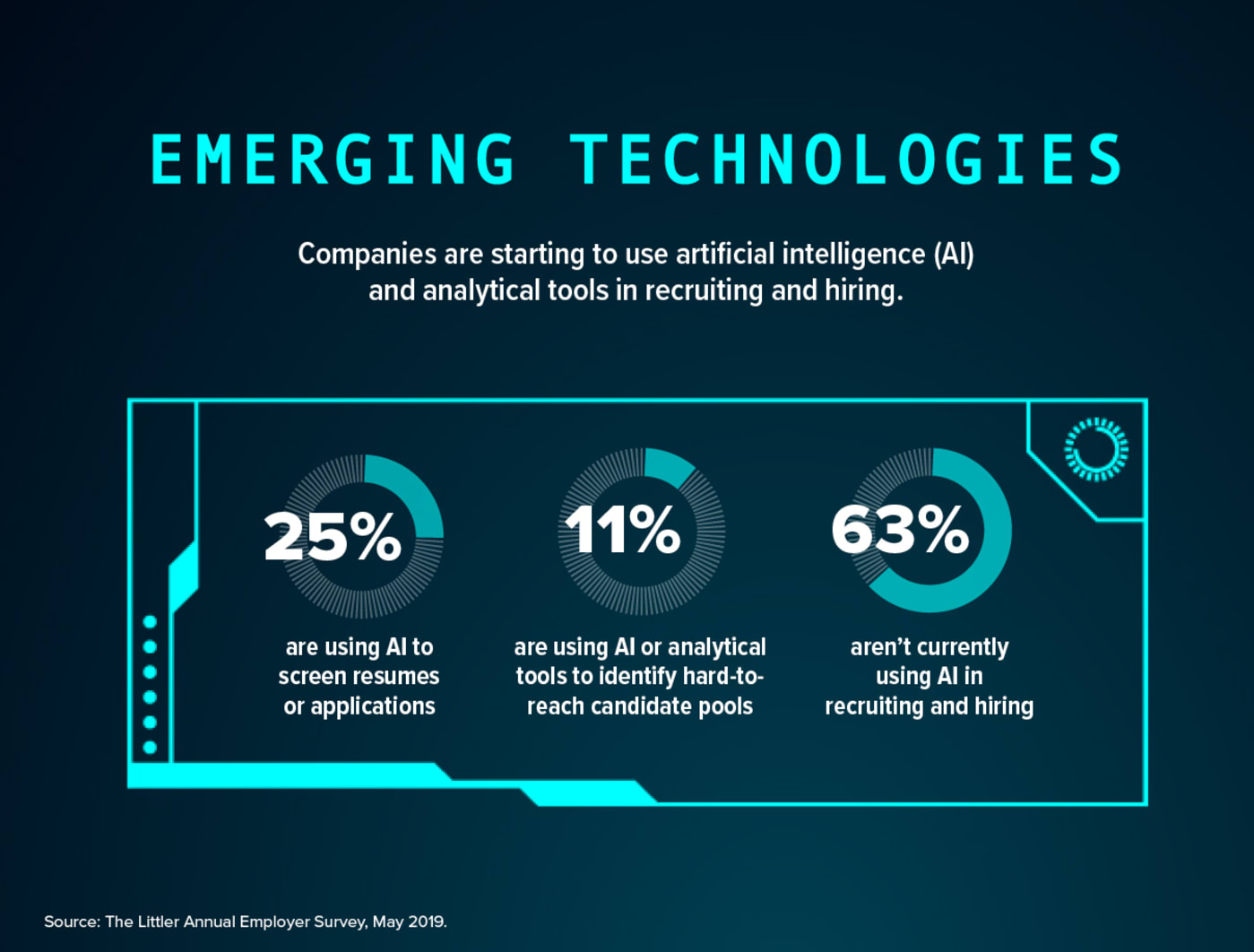 A New Era in Hiring
Tengai is one of many emerging corporate recruiting tools that are changing the face of the hiring process.
From relying on predictive analytics and chatbots to using enhanced candidate vetting strategies—and myriad other up-and-coming trends—the recruiting industry is shedding old habits and trying some potentially game-changing new approaches as a younger, tech-driven generation of workers and managers slides into the driver's seat.
New corporate recruitment solutions come at a time when a percolating economy and robust job market are placing more pressure on HR recruitment efforts.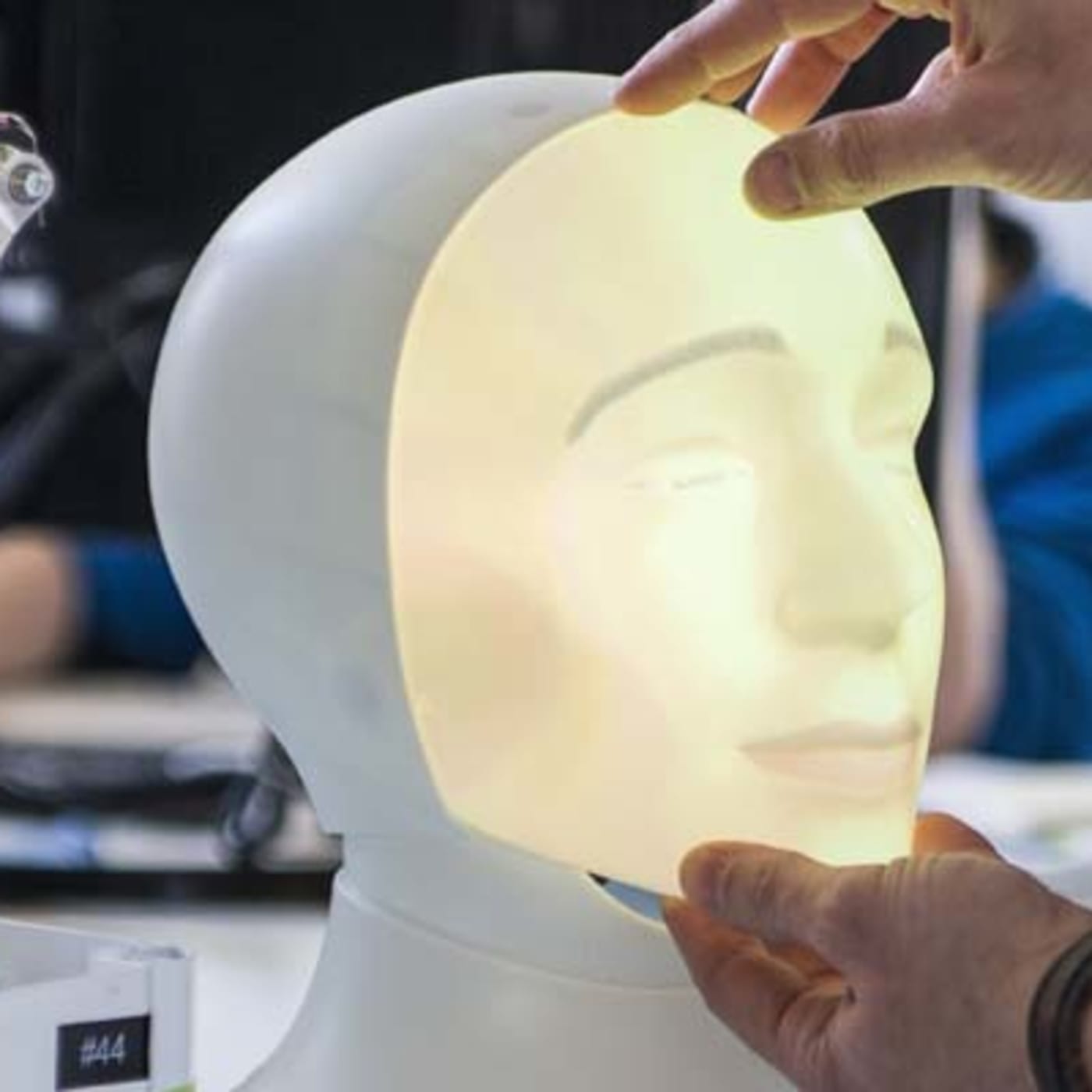 "Employers across all industries are feeling the effects of an extremely tight labor market," says Chris Beatty, a sales executive at People First, based in Reston, Va., which provides human capital management systems. "The U.S. unemployment rate remains low, further emphasizing the shortage of talent and skills."
Changing demographics also are at play.
"With five generations in today's workforce, employers need to ensure not only that they're managing and training employees in manners that represent each generation's values and communication styles, but also that they're recruiting with those in mind," Beatty says. "Due to the increased use of technology, recruiting has seen many challenges and changes in recent years."
Five Emerging Trends
In facing these challenges, many recruiters are shifting gears and investigating five talent acquisition and retention strategies that will provide the most impact:
1. Predictive Analytics
"Analytics assist an employer in analyzing current workers and top performers and predicting which candidates may translate into high-performing employees," says Beth Zoller, J.D., legal editor at XpertHR, an employment law and regulations company in New Providence, N.J.
Zoller says that with predictive analytics, employers can move beyond basic measures, such as time-to-fill and cost-per-hire, and review more-advanced data. For instance, they can track retention rates and success indicators for top performers and apply this data to hiring decisions. Predictive analytics also can help identify which hiring sources provide the best results and can measure the effectiveness of diversity hiring efforts, albeit at a cost.
Jessica Adams, vice president of human resources and recruiting at Brad's Deals, a discount website based in St. Thomas, U.S. Virgin Islands, speaks from experience when she says "establishing predictive analytics can be expensive and requires internal support. But if you're looking to scale and recruit in a big way, investing in it is imperative.
"It informs your candidate interviews and can surface areas of concern," she continues, "so that you can streamline interviews to make the most out of the time spent with [candidates]."
Adams also notes that predictive analytics is increasingly being incorporated into the tools talent managers are using on a regular basis.
"For example, our applicant tracking system [ATS] includes predictive analytics and machine learning to provide insight into such factors as employee tenure and career growth, in addition to external factors like pipeline size and forecasting start dates," she says. "This data helps our team better understand hiring needs [and] the recruiting life cycle and helps to successfully onboard candidates."
Specifically, with regard to recruiting, Adams says, the ATS ranking system helps ensure that busy hiring managers and recruiters can focus their limited time on reviewing candidates with the strongest potential.
Predictive analytics can take human resources into a burgeoning array of strategic directions. At Suisse Bank, for example, HR analysts use data algorithms to figure out which employees are likely to quit and why.
The investment banking giant puts the information to good use. Managers are given the aggregate data so that they can focus on retention efforts on quality staffers who are likely flight risks. The company reported a stronger retention rate after the data-analysis campaign launched.
2. Chatbots
More HR managers are turning to high-end, customized chatbots to make recruiting more efficient and to produce better outcomes.
"The rapid growth of instant messaging and automated chatbots that can integrate into existing ATSs and HRISs [human resource information systems] will allow recruiting and HR teams to start scaling workflow processes," says Jonathan Duarte, founder of GoJobs, an online job board based in San Francisco.
For instance, interview scheduling is often one of the most time-consuming yet critical tasks, Duarte says. It has traditionally involved multiple phone calls and e-mails between multiple people—a system that requires individualized human support and isn't scalable. "Now, however, chatbots can be connected to a recruiter's calendar, knowing what times are available," he says. "Then recruiters can simply send a text message asking a candidate to respond if they're interested in setting up an interview."
It doesn't end there, Duarte adds. "The chatbot then provides available times and dates, and candidates can choose times that work with their schedule. This solution saves all parties time and frustration and allows recruiting teams to scale their processes."
Chatbot-based recruiting solutions are gaining favor among recruiters and hiring managers even as the unstructured human side of recruiting can be difficult to squeeze into a technology-based system.
"Combining technology with unstructured [or semi-structured] corporate processes has tended to result in unhappy marriages," says Alan Majer, chief executive officer and founder of Good Robot, a Toronto-based tech firm that specializes in research, prototyping and new product development. "In fact, I'd suggest that many technologies which might be used to improve HR's efficiency or outcomes would probably be doomed to failure."
But chatbots are different, Majer says.
"A well-built chatbot starts with the reality that conversations are nonlinear," he explains. "Instead of force-fitting people into predefined categories, it allows for a nonlinear flow that captures the unstructured data that IT systems have struggled to accommodate but that's so valuable to the process of identifying and screening the right candidates or for connecting people to the right information at the right time.
"It's finally a tech tool flexible enough to accommodate people, instead of rigidly forcing humans to conform to it," Majer continues. "That's the reason it will succeed where many other tech systems have failed."
Economically, chatbots already seem to be a money-saver for HR teams. IBM, for example, and its Watson chatbot, which engages with job applicants daily and significantly eases the HR workload, helped save Big Blue $107 million in 2017 alone.
3. Enhanced Vetting
Delving more extensively into a job candidate's background is a short-term task that can pay long-term dividends.
"Recruitment processes differ for every organization depending on size and budget, but for a small or midsize enterprise like us, we have a three-stage interview process," says Jessica Salter, human resources adviser and talent manager at London-based Best Response Media, a website developer. "This may seem excessive, but when we hire, we want to hire right."
First, HR screens every candidate on a phone or video call. This is important for two reasons, she says: to test communication skills and "to paint a vivid picture of the job role and our organization."
Candidates who pass the initial screening receive a test from Salter's team that's relevant to the job role, like a design task, a writing assignment or an analysis of a client marketing campaign.
"The final stage will be to meet the rest of the team," she says. The managing director or hiring manager will invite the candidate either to the company's offices or to a video call, depending on whether the job is remote.
"This process can take anywhere from three weeks to a month," Salter says, "but, again, we're prepared to wait for the right candidate.
"Every employee must share our company values and understand the company culture," she adds. "Our retention rates have significantly increased with this process, and our voluntary turnover has decreased."
The methods hiring managers are using to better evaluate candidates are changing fast, too.
Theresa Santoro, director of human resources and operations at Actualize Consulting, an engineering and technology services firm based in Washington, D.C., encourages applicants to move away from resumes to bios, or profiles, that are easily customized.
"This will better transcribe their skill sets to align with [open] positions and also save employers time in reviewing applicants," she says.
As for its own hiring practices, Actualize uses behavior assessment tools to identify personality traits and how candidates may fit in with existing teams. "We're also using video applications," Santoro says, "which saves time in the interview process and allows us to evaluate soft skills we might miss with standard applications."
4. Artificial Intelligence
The use of artificial intelligence is growing across the business landscape, with recruiting and human resource practices increasingly being affected.
Case in point: An online survey of 484 human resource professionals by HR Research Institute and sponsored by Oracle found that in two years, 77 percent of HR organizations will be using AI for talent acquisition to some extent, says Vinita Venkatesh, vice president of marketing at the San Francisco-based Mya Systems, which offers a AI-powered recruiting platform that converses with job applicants.
"While the human touchpoint is important, automation will soon reign," she says.
As an example, Venkatesh points to L'Oreal, which uses AI to help screen more than 1 million applicants for its 15,000 jobs a year. "Results have been quite positive," she says.
L'Oreal has indicated, for example, that it used artificial intelligence tools to screen 12,000 applicants for an internship program with 80 spots. The deployment of AI saved 200 recruiting hours and enabled L'Oreal to hire the most diverse group of interns to date, Venkatesh notes.
Allie Jeanty, director of development and analytics at Atrium Staffing in New York City, says, "AI is creating major efficiencies for recruiters and offering an improved candidate experience." Machine learning and natural language processing (NLP), the ability of computers to understand and respond to human language, are examples of AI technologies that are "hot" in the recruitment space right now, she notes.
"With applicant databases that grow in volume every day, mining for top talent and being able to efficiently and promptly respond to top talent has gotten more challenging," she says.
Jeanty also points to two key areas where AI can be a game-changer for staffing and recruiting professionals:
Algorithms. "Trained algorithms are able to surface candidates for a particular job in seconds, versus the hours that a recruiter might spend looking for that same talent," she says. "This extra time given back to the recruiter allows them to spend more time focusing on the needs of the client and getting to know their candidates on a deeper level."
Matching and response. "Using matching technology and NLP, recruiters can identify and respond to top candidates more quickly than ever before," Jeanty adds, "so that more candidates are having quality interaction with recruiters."
5.Texting
Yes, mobile texting has been around for a while, but as a recruitment communications tool? Not so much.
That's all changing—and fast—as sending and receiving text messages is the most common form of communication for many Americans under age 50, according to Gallup.
"With the number of people using [mobile] phones worldwide expected to surpass 5 billion by 2019, human resource professionals are frequently adding texting into their recruiting strategy," says Aman Brar, CEO of Jobvite, which provides recruiting software, based in Indianapolis.
Jobvite recently acquired Canvas, an enterprise-grade, text-based recruiting platform used by companies from startups to Fortune 500 businesses. Canvas uses a chatbot to gather initial information about candidates before human recruiters take over, creating a hiring process that's both faster and more convenient for everyone, Brar says.
Advanced text, chatbot and AI technology drive engagement throughout the hiring process. That allows recruiters to innovate by leveraging machine learning to empower highly scalable human-to-human conversations and automate top-of-funnel candidate screening.
"Texting with multiple people at once allows recruiters to juggle 20 to 30 conversations on a text dashboard at the same time," Brar says. "Ninety percent of recruiters who have implemented texting in their recruitment have found that using texting speeds up the process considerably."
The average text response time is about 90 seconds. Additionally, a job candidate can be screened in just 4.4 minutes after a text engagement, and a hiring manager who typically conducts four to six phone screens per day can reach 10 times that volume using text-based recruiting.
According to Cliff Holsenbeck, senior director of product management at iconectiv, a division of Ericsson in Orlando, Fla., companies such as Target and McDonald's are using text-based technology called "short codes" to land top job candidates.
"Short codes are unique, personalized five-to-six-digit numbers that make text-messaging campaigns possible," he says. "They enable instant outreach for recruitment and allow recruiters to increase the list of potential candidates in a way that's familiar to consumers. Short codes are especially useful for job recruitment in industries that experience a high turnover rate, like seasonal and customer service positions."
Since consumers must opt in, messages sent via short codes are uniquely effective in their ability to hit their target audience with remarkable consistency.
"SMS messages have a 98 percent open rate, are read within three minutes or less, and have a response rate three times higher than e-mail," Holsenbeck adds. "Unlike e-mail marketing efforts, which often end up filtered into a junk or spam folder, mobile marketing initiatives have a proven track record of success."
Companies are also beginning to roll out voice-activated mobile apps that make it easier for people to apply for jobs.
McDonald's, for example, recently launched an Apply Thru app for Alexa and Google devices that leverage voice-search technology to let prospective employees easily apply for a position over the phone. Once the applicant finishes the call, McDonald's can text the caller back to finish the application and set the stage for future engagement.
Source: https://www.shrm.org/hr-today/news/all-things-work/pages/five-recruiting-trends.aspx
By Brian O'Connell